Skilled Residential & Commercial Block Work
Concrete blocks offer a lot of versatility for residential and commercial masonry projects, and Galaxy Improvement LLC is an experienced block work contractor. If you need a new concrete block wall or your existing block needs reliable repairs, our specialists can customize an effective solution. We're an expert masonry contractor offering second-to-none craftsmanship and skill, and we look forward to bringing our expertise to your block work project.
Benefits of Concrete Block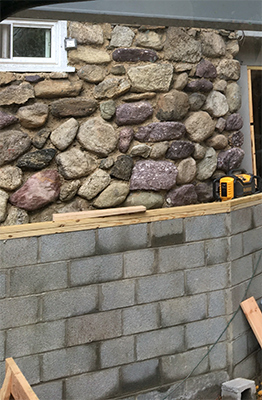 Concrete block is a popular building material because it offers many benefits:
Quick & easy installation
Low water absorption
Fire- & wind-resistance
Affordability
Easy maintenance
Extreme durability
Sound insulation
Thermal efficiency
Design flexibility
For truly custom results, we can install blocks of different shapes, sizes and types. If you want to further upgrade the look of your concrete block, Galaxy Improvement LLC can apply stucco or other decorative surfaces to create an eye-catching aesthetic. There are many options when it comes to your block work, and we're ready to discuss your needs and bring your vision to life!
Professional Concrete Block Repairs
High-quality concrete blocks should serve you well for the long haul, but if weather or an accident has caused damage to your structure, Galaxy Improvement LLC offers experienced repairs. Our knowledgeable team can properly assess the damage, clean the impacted area and repair your block work. Our repair work will restore the structural integrity of your concrete block, so reach out and let us make an affordable repair plan.
Request a Free Estimate Today
Galaxy Improvement LLC is a top-notch masonry contractor with high-level block work services. Please call (201) 334-2955 or contact us online to talk to our team and request your free project estimate! We look forward to serving your needs.