Licensed & Insured Hardscape Contractor Serving the New Jersey Tri-State Area
Galaxy Improvement LLC is an experienced hardscape contractor with high-quality, affordable solutions for residential and commercial customers. Our professionals can customize beautiful exterior elements that seamlessly integrate with your landscaping to enhance the look, comfort and value of your property.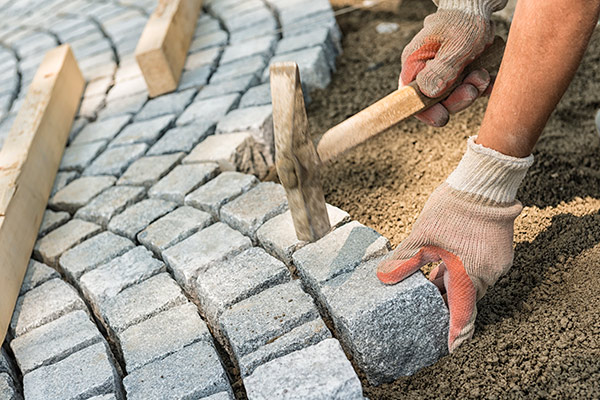 Full-Service Hardscaping Solutions
Hardscaping is an element of landscaping that deals with the permanent or hard surfaces and objects on your property. From stone and concrete to brick and tile, Galaxy Improvement LLC can create hardscapes that greatly improve the appearance and overall appeal of your outdoor living space. As an experienced hardscape contractor, we handle:
Patios
Walkways
Tile paths
Driveways
Retaining walls
Terraces
Steps
Belgian blocks
Pavers
Whether your project is big or small, Galaxy Improvement LLC can customize an eye-catching solution that meets your needs.
The Value of Professional Hardscaping
Installing a beautiful hardscape takes a lot of planning and work, and it's a process best left to a professional hardscape contractor. Galaxy Improvement LLC has years of experience leaving customers completely satisfied with their new exterior spaces, and we can make your investment well worth your while! Our top-notch hardscaping services can give you a unique outdoor space that's:
Beautiful. Our specialists can work with your property's features to design a one-of-a-kind aesthetic that makes your space the envy of the neighborhood.
Practical. Hardscaping can transform an outdoor living space into a coherent, functional unit that suits your lifestyle. Our well-made hardscape can change any outdoor living area into a captivating space that expresses your creativity and personality.
Integrated. Well-planned hardscaping can also serve as a transition between the interior and exterior living areas of a home. And if easy maintenance is your goal, we can reduce the amount of exposed lawn that requires regular maintenance like grass cutting and fertilizing.
Galaxy Improvement LLC is the skilled hardscape contractor you can count on to turn your outdoor vision into a gorgeous reality!
Schedule a No-Pressure Consultation Today
If you're thinking about improving the appearance and functionality of your outdoor space, please call Galaxy Improvement LLC at (201) 334-2955 or contact us online. Without our craftsmanship, your dream won't become a reality … so don't hesitate to reach out today!